Sale!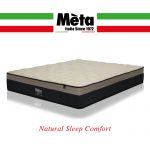 Natural Sleep Comfort
$1,248.00 – $1,828.00
Finding an affordable organic mattress can be daunting, but a good night's sleep shouldn't be elusive. With ( ORGANIC & NATURAL ) Natural Sleep Comfort mattress you will wake up rested and ready for the challenges of the new days. The Imported Organic Cotton fabric make you feel more comfortable and relaxing besides that the most important function is help you to have more longer deep sleep which will help your body to Refresh, Recharged & Recovery (3R). This mattress offers an ergonomic core of highly elastic 100% Natural Latex with a wavy profile on the inside with a pleasant relaxing effect on the body and also with Premium Visco-elastic Memory foam for perfect pressure relief. None contain harsh flame retardants or toxic chemicals.  The mattress with 5 targeted zones contains in the 2.5mm Twin Spring System which guarantees a calibrated and targeted support, the Meta Extension provides exceptional elasticity. Chiropractic Surgeon recommended.